What is search engine optimization? What Does SEO Mean (Seo Meaning)?
What Is SEO & Why Is It Important?
What is SEO and How It Works? What Is SEO Content?
It is a group of questions posed by many beginners in the field of the Internet. The topic may seem difficult and complicated at first sight, but with a little focus you will be able to understand all worlds in this field, especially if you are heading towards a project to establish a website or start in the field of electronic commerce.
Welcome, let's start now.
What is SEO?
SEO means Search engine optimization. It is a set of rules for optimizing your website so that it can achieve higher rankings in search engines' organic results.
It is a great way to increase the quality of a web site by making it user-friendly, faster and easier to navigate.
In other words, SEO involves making certain changes to your website design and content that make your site more attractive to a search engine. You do this in hopes that the search engine will display your website as a top result on the search engine results page.
Though search engine optimization can get quite complex when it comes to all the different factors that impact your ranking, the basic process is not as difficult to understand.
Search engines want to provide the best service for their users. This means delivering results on the search engine pages that are not only high quality but also relevant to what the searcher is looking for.
In order to do this, search engines will scan, or crawl, different websites to better understand what the site is about. This helps them deliver more relevant results to those who are searching for certain topics or keywords.
Similarly, the search engines will scan the site to determine how easy it is to navigate and read, rewarding user-friendly sites with higher rankings on the search engine results page.
SEO is the process that organizations go through to help make sure that their site ranks high in the search engines for relevant keywords and phrases. For instance, let's say that you have an article about how to build a ecommerce store?
In order to get your content in front of the right people, you want to try to optimize your this blog post so that it will show up as a top result for anyone who searches for the phrase "build ecommerce store."
Benefits Of SEO For Your Website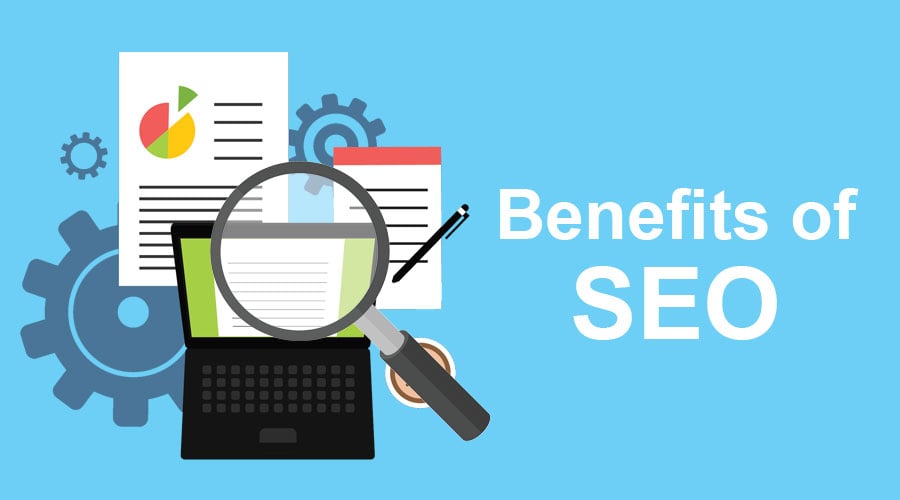 In today's competitive market, SEO marketing is more important than ever.
Search engines serve millions of users per day looking for answers to their questions or for solutions to their problems.
If you have a web site, blog or online store, SEO can help you get targeted free traffic from search engines.
Search engine optimization is important because:
The majority of search engine users (more than 65% ) are more likely to click on one of the top 5 suggestions in the search engine results pages (SERPS). To take advantage of this and gain visitors to your web site or customers to your online store, your website needs to appear in one of the top positions.
SEO is not only about search engines but good SEO practices improve the user experience and usability of a web site.
Users trust search engines and having a presence in the top positions for the keywords the user is searching, increases the web site's trust.
SEO is good for the social promotion of your web site. People who find your web site by searching Google or Yahoo are more likely to promote it on Facebook, Twitter, or other social media channels.
SEO is important for the smooth running of a big web site. Web sites with more than one author can benefit from SEO in a direct and indirect way. Their direct benefit is an increase in search engine traffic and their indirect benefit is having a common framework (checklists) to use before publishing content on the site.
SEO can put you ahead of the competition. If two web sites are selling the same thing, the search engine optimized website is more likely to have more customers and make more sales.
SEO Meaning : Factors That Impact SEO
Now that you know what is SEO and how it works, let's take a look at some of the factors that can impact your search engine optimization ranking. Search engine giant, Google will never give away the exact algorithm they use to rank sites.
However, we do have a pretty good understanding of some of the factors that impact search engine results page (SERP) rankings. These factors include both on-page and off-page factors, which we will discuss below.
First factor: Content Marketing
Before we dive into some of the factors of on and off-page SEO, let's talk about content. Content is effective in both attracting the search engines and helping your organization make connections with site visitors.
The more quality, relevant content pieces that you have on your site, the more likely search engines will be to rank your pages higher on the search engine results page.
Similarly, the more engaging and effective content you have on your site, the more likely your visitors will be to spend some quality time on your website and maybe even make a purchase.
The secret to creating content that is optimized for both the search engines and your human site visitors is to create a variety of different types of content pieces that are well-written and on topics that are most relevant to your audience.
Here are just a few types of content that you can focus on to help improve your content offering and, thus, your search engine rankings:
Blog posts and articles
Social media content
E-books and whitepapers
How-To Guides and Tutorials
Videos and audio recordings
Infographics or other visual content
Another important thing to consider when creating content for your site is SEO keywords and phrases. These are relevant words and phrases that a search engine user might type in when looking for answers to their questions or relevant products and services.
When you create content around these keywords and phrases, you improve your chances of ranking higher for these keywords on the search engine results page.
Yet another factor that can impact your content, and thus your search engine ranking, is how fresh your content is. Freshness basically refers to how often your organization posts new content to your site.
However, creating brand new content is not the only way to keep your content fresh. You can also freshen up your content by updating posts, rewriting them to make them more effective, or adding new information and statistics over time.
Though creating content takes time and resources, it will more than pay off in the end. Search engines love great content and consumers need quality content to better understand the value your organization can provide.
Start off by creating a few blog posts and work to build a following on social media. Once you have a group of loyal fans and followers, your organization can work to create different types of media to attract and engage new leads.
Second Factor: On-Page SEO
The on-page SEO factors are those elements that happen on your website. These are the things that you have complete control over, meaning that you can work to improve these factors over time by following best practices for SEO. This goes beyond just your content marketing to the deeper levels of your site's HTML.
Here are just a few of the on-page SEO factors that can help you improve your search ranking:
Title Tag – The title tag on each page tells the search engines what your page is about. This should be 70 characters or less, including both the keyword your content focuses on and your business name.
Meta Description – The meta description on your website tells search engines a little bit more about what each page is about. This is also used by your human visitors to better understand what the page is about and if it's relevant. This should include your keyword and also provide enough details to tell the reader what the content is about.
Sub-headings – Not only do sub-headings make your content easier for visitors to read, but it can also help improve your SEO. You can use H1, H2, and H3 tags to help search engines better understand what your content is about.
Internal Links – Building internal links, or hyperlinks to other content on your site, can help search engines learn more about your site. For example, if you are writing a post about the value of a specific product or service, you can link to the product or service page in your blog post.
Image Name and ALT Tags – If you are using images on your website or within your blog content, you will also want to include your keyword or phrase in the image name and alt tag. This will help search engines better index your images, which may appear when users perform an image search for a certain keyword or phrase.
When strategically placing your SEO keywords and phrases on your pages, it's important to avoid over-optimization. Google and other search engines will penalize your page if it attempts to use keywords too many times throughout the content.
In addition, you want to make sure that each piece of content focuses on just one or two keywords. This helps ensure that your content is specific and relevant. Trying to tackle too many keywords at once may negatively impact your search engine optimization as it often makes for un-focused and thin content.
While site content plays a vital role in your search engine rankings, it's also important to consider your site architecture. You want to use a website design that makes it easy for search engines to scan or crawl your pages and content.
Building internal links between your pages, creating a sitemap and submitting your sitemap to search engines can both help improve your site's crawlability and give your search engines a better understanding of your content.
Yet another concern when it comes to your site's architecture is whether or not your website is mobile-friendly. Many consumers are searching for information and brands on their mobile devices.
You need to make sure that these users are able to view, read, and navigate your website from their mobile device. Not only does this impact the user experience, but it can also affect your SEO.
Third Factor: Off-Page SEO
Off-page SEO embodies any efforts taken outside of a website to improve its search engine rankings.
Link building is a big part of this, but it goes way beyond that.
Here are a few of the different off-page SEO factors that can impact your search engine rankings:
Trust – Trust is becoming an increasingly important factor in a site's Google ranking. This is how Google determines whether you have a legitimate site that visitors can trust. One of the best ways to improve trust is by building quality backlinks from sites that have authority.
Links – One of the most popular ways to build off-page SEO is through backlinks. You want to be careful here as spamming sites with your links is a quick and easy way to get your site banned from the search engines. Instead, take the time to build relationships with influencers and fans who create quality content and will link back to your site in their own content.
Social – Another important off-page SEO factor are social signals, such as likes and shares. When it comes to boosting SEO, you want to look for quality shares from influencers. The more quality content you publish, the more likely you will be to get people to share your content with others.
Though you do not have direct control over what happens outside of your organization, you can increase your chances of improving off-page SEO simply by creating quality content that others will find valuable.
The more relevant and interesting your content is, the more likely others will be to link to your content and share it on social media. The more people trust your content, the more the search engines will as well.
SEO Meaning : Different Types of SEO
When it comes to SEO, there are two different approaches that organizations take to optimizing their sites for the search engines – black hat vs. white hat SEO.
White hat SEO refers to the use of techniques and strategies that target a human audience opposed to a search engine. Techniques that are typically used in white hat SEO include using keywords, and keyword analysis, doing research, rewriting meta tags in order for them to be more relevant, backlinking, link building as well as writing content for human readers. Those who use white hat SEO expect to make a long-term investment on their website, as the results last a long time.
Black hat SEO refers to techniques and strategies used to get higher search rankings, and breaking search engine rules. Black hat SEO focuses on only search engines and not so much a human audience. Black hat SEO is typically used by those who are looking for a quick return on their site, rather than a long-term investment on their site. Some techniques used in black hat SEO include: keyword stuffing, link farming, hidden texts and links, and blog content spamming. Consequences of black hat SEO can possibly result in your site being banned from a search engine and de-indexed as a penalization for using unethical techniques.
Buy Cheap SEO compaign
Rank your website #1 in Google!
Use SEO campaigns to rank your website effectively in Google, Choose your budget and start your link building campaign. From $5 to $1000.
These SEO campaigns are pre-designed campaigns, it is the best services, quantities & extras within a defined budgets.
The important advice here is you need to be constant, Google need to see regular created backlinks to your website, not only one time.
So, try to split your monthly budget for smaller budget, and then make a weekly campaign for your links/keywords.
Another important advice, you need to keep building quality links for 3-9 months (according to your niche hardness) but not less than 3 months.
---
Get Traffic Secrets : Claim your Free copy Now !
Get Traffic Secrets : Claim your Free copy Now !
[Total: 7 Average: 4.4/5]